Cancer Advisory Committee
MISSION:
The mission of the South Puget Intertribal Planning Agency Cancer Advisory Committee is to implement a community-driven, comprehensive plan addressing the cancer burdens of each SPIPA tribe. The National Comprehensive Cancer Control Program (NCCCP) supports advisory committee efforts that use their individual and collective resources to plan and implement strategies that address policy, systems, and environmental changes as described in the SPIPA tribal cancer plan. 
VISION: 
We envision a future in which the SPIPA Consortium Tribal Communities live a long, healthy, cancer-free life. 
Interested in Joining the Cancer Advisory Committee? 
Committee Updates: 
Nov. 7, 2023 Our committees current priority is to update the 10 year SPIPA Tribal Cancer Plan which expired in 2022. The new plan will be complete and ready to be shared with the community by Summer of 2024 and will include years 2024-2028. If you would like to have input on the new plan and have your voice heard, please click the New Member Request Form above. We always welcome new members interested in preventing cancer within SPIPA Tribal Communities.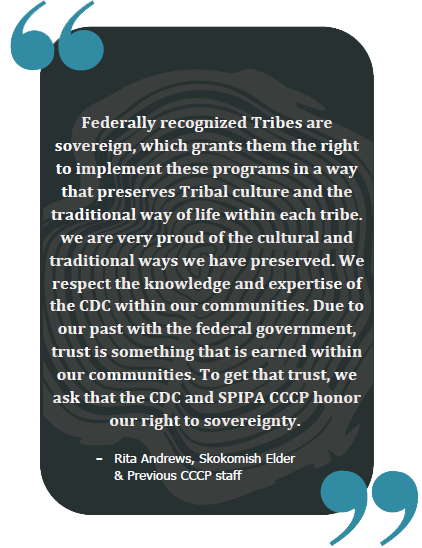 Who are Advisory Committee Members? 
SPIPA Advisory Committee Members are consortium Tribal members, survivors, tribal health workers, and community organizations interested in the prevention, early detection, and survivor support within the SPIPA consortium tribes. 
Any organization or individual interested in working to reduce the burden of cancer among AI/AN people may join the Coalition. To become a Member, please complete the Committee Member Request Form. If you have any questions, please contact SPIPA Community Engagement coordinator, Cher Castello at [email protected]
What to Members do?
Attend bi-monthly meetings
Provide input on the cancer plan development and maintenance.
Identify workgroups, Plan, and implement activities that align with cancer plan objectives
Help Prevent Cancer!
Advisory Committee Chair: 
Christina Hicks, Chehalis Tribal Member and Wellness Manager
To access the Health and Wellness Directory, click here